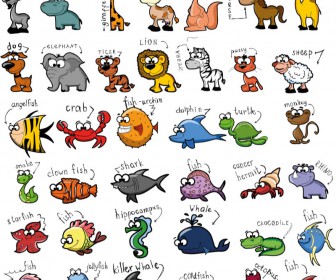 Funny cartoon animals for kids each animal sign with its name. Your baby learns, looks like a crab, shark, snake, fish, dog, elephant, tiger, lion, zebra, sheep, kangaroo, horse and many others. All animals are drawn well and with a smile. In archive 1 files and more than 42+ animals. File in .eps format, size 2.8MB, created by using vector graphics for Adobe Illustrator or CorelDRAW with free download. Ready for print. License: for personal use only.
Links: vector art animals | graphic animals.
Tag names: Free Vector Graphics.