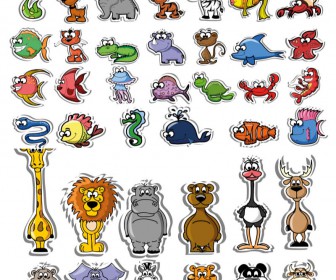 Funny cartoon animals sticker with deer, hedgehog, turtle, yellow duck, sheep, rabbit, turtle, yellow duck, sheep, rabbit, camel, strange round fish, fox, goat, hippopotamus, giraffe, lion, fish, month, crazy shark, snake, elephant, zebra, fish with lipstick, shellfish, cat, crocodile, rhino, dolphin, starfish, shrimp, crab, jellyfish, sea horse, whale, and other. Image specially created for use in the future in the form of stickers. Animals are depicted in full-length and standing on hind legs. In archive 2 files and more than 40+ funny cartoon animals for stickers. File in .eps (or .ai) format, size 3.57MB, created by using vector graphics for Adobe Illustrator CS or CorelDRAW with free download. Ready for print. License: for personal use only.
Links: cartoon animals vector | animal vector images.
Tag names: Free Vector Graphics.