Cartoon animals, sea creatures and fish vector
Cartoon animals, sea creatures and fish vector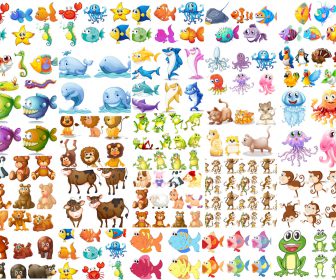 Cartoon animals, sea creatures and fish – very large collection of inhabitants of the seas, oceans and other animals. In archive 25 files and more than 120+ animals templates, 29 funny fish species, 4 image with whale, piranha, 6 species of fun octopus, stingray, starfish, 3 types of Seahorses, 8 types of colored shark, 17 species of frogs in different positions (lying, standing on legs, resting and dancing), 4 types of cartoon jellyfish, 7 species of parrots, 18 kinds of nice teddy bears, 6 species of cat and lion and other.
Files size: 52,64 mb, name: "Cartoon animals, sea creatures and fish vector" in ai, eps format for Illustrator. Stock clip art: free download. License: for personal use, with attribution – commercial use.
Links: animals free | free animal vector.