Wedding decor vector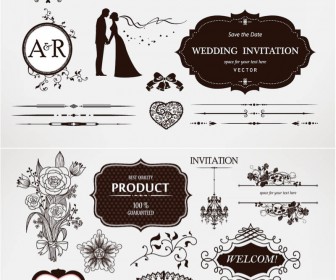 Wedding decor (frames, dividers, tape, silhouettes of bride and groom, flower bouquets, floral swirls) for invitation cards and decorations. In archive 2 files and more than 40 elements of ornament which you can use for drawing up the exclusive wedding invitation. All elements very beautiful also have irregular shape. File: .eps format and size: 5.21MB made by using vector graphics for Adobe Illustrator, CorelDRAW, ABViewer and other with free download. Ready for print. License: for personal use only.
Links: wedding program graphics | wedding program graphics | lace wedding invitation template | wedding borders and frames.