Wedding invitations and cards vector with young children
Wedding invitations and cards vector with young children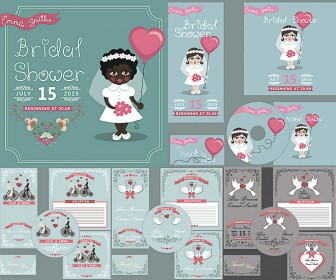 Wedding invitations and cards with young children also on postcards present doves, swans, and the bride and groom on bicycles. In archive 5 files and more than 15+ templates for wedding decoration and invitation. File in .eps format, size 6.73MB, created by using vector graphics for Adobe Illustrator or CorelDRAW with free download. Ready for print. License: for personal use only.
Interesting to see our TOP 10 wedding designs?
Do not forget to comment if the image was helpful! Good luck!
Links: vector wedding free download | free wedding invitation graphics.