Wedding invitations vector with flowers, leaves and tree
Wedding invitations vector with flowers, leaves and tree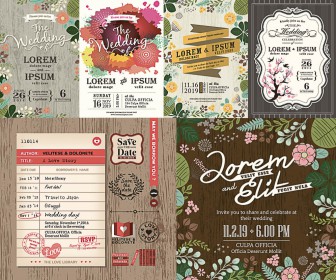 Wedding invitations with flowers, leaves and tree. Very beautiful solutions with calligraphic inscriptions and decorations frame. In archive 6 files cards for with wedding posters and invitations. File in .eps format, size 12.7MB, created by using vector graphics for Adobe Illustrator or CorelDRAW with free download. Ready for print. License: for personal use only.
Also visit other wedding vectors with flowers:
Wedding wishes cards vector
Wedding Invitation with flowers and birds vector and TOP 10 wedding cards.
Links: free wedding graphics | wedding vector free download.