Vintage style wedding invitations vector
Vintage style wedding invitations vector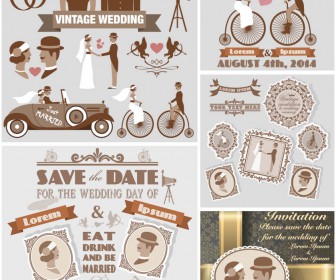 Set of vector vintage style wedding invitations with retro illustrations of a car, Plate-folding camera on tripod, the bride and groom on a bicycle Penny-farthing, card Save the date for wedding day of and eat drink and be married and birds holding a banner in its beak. In archive 5 files and more than 15+ decorative items for wedding and party invitations.
Set name: "Vintage style wedding invitations".
Files:
Size: 8,81 MB;
Format: Ai or EPS clip art images and templates for Adobe Illustrator;
License: for personal use only – free download.
(Visited 414 times, 1 visits today)