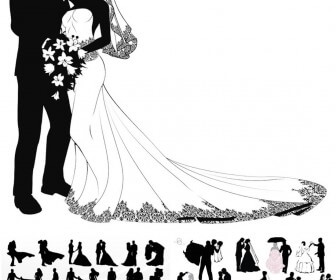 Wedding couple silhouettes in different poses for invitation cards and postcard. In archive 3 files and more than 42+ beautiful silhouettes newlyweds. File in .eps format, size 2.81MB, created by using vector graphics for Adobe Illustrator or CorelDRAW with free download. Ready for print. License: for personal use only.
Links: wedding vectors free | marriage graphics | lace wedding invitation | wedding border frame.
Tag names: Free Vector Graphics.