Decorative Christmas vector backgrounds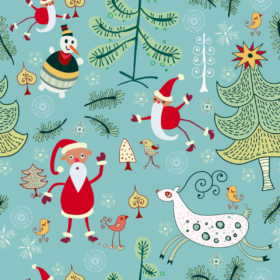 Collection of 6 vector decorative Christmas backgrounds with cartoonish illustrations of Santa Claus, Christmas trees, snowflakes, animals and vector Christmas ornaments for your greeting cards, brochure templates, holiday posters and other decorations. Format: EPS or Ai stock vector clip art and illustrations. Free for download. Set name: "Decorative Christmas backgrounds" for Adobe Illustrator.
Theme tags: Xmas trees, cartoon Santa, seamless patterns.
(Visited 20 times, 1 visits today)
No tags for this post.