Decorative skull labels vector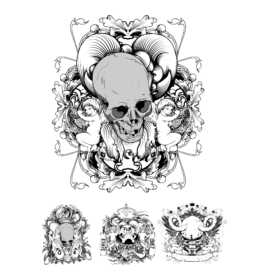 Set of 4 vector decorative skull labels, embellished with floral ornaments and illustrations for your t-shirt designs, prints, card decorations, etc. Format: EPS or Ai stock vector clip art and illustrations. Free for download. Set name: "Decorative skull labels" for Adobe Illustrator.
Theme tags: vector skulls, floral ornaments.
(Visited 94 times, 1 visits today)
No tags for this post.