Vector Thanksgiving Day clip art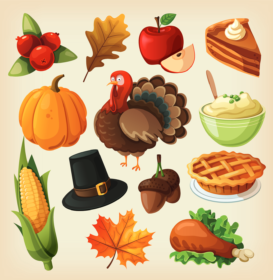 Set of 9 vector Thanksgiving Day holiday clip art, with illustrations of tasty food and attributes: turkey, mashed potatoes, pies, pumpkin, etc. Can be used for holiday designs, invitation cards and decorations. Format: EPS or Ai stock vector clip art and illustrations. Free for download. Set name: "Thanksgiving Day clip art" for Adobe Illustrator.
Theme tags: Thanksgiving Day images, holiday vectors, turkey pictures.
(Visited 49 times, 1 visits today)